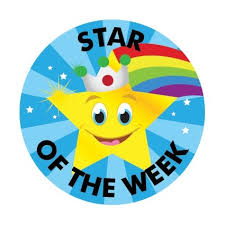 Star of the Week in Bluebell Class is Abbie! Abbie has been working hard on writing her name independently. Every morning, she comes into class with a smile and practises her letter formation. As well as this, Abbie has managed to complete all of our classroom activities. Fabulous work, Abbie!
Star of the Week in Daisy Class is Caitlin! Caitlin has been working very hard to write her name independently every morning. She has also been practising her sounds during RWI and remembers lots of the phrases for the letter formations. Well done, Caitlin!
Star of the week in Sunflower Class is Inaaya! Inaaya has been demonstrating excellent number grid work and challenging herself to write in steps of one and two all the way to 100. Her number formation has also been very neat and tidy. Well done, Inaaya!
Star of the Week in Poppy Class is Alicia! Alicia can always be relied upon to make good choices and set an excellent example for her friends. Keep it up, Alicia!
Star of the Week in Carnation Class is Hayaa! Hayaa has been working hard and participating well in her maths lessons. She has shown great focus and work ethic when completing her independent tasks. Well done, Hayaa!