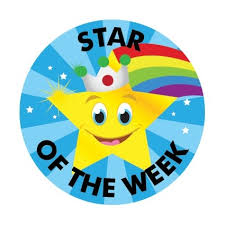 Star of the Week in Bluebell Class is Zakaria! Zak produced some superb independent writing during our literacy task. Using his Fred Fingers, Zak managed to use rhyming words to describe one of the alien characters from our book of the week, 'Aliens Love Underpants'. Fantastic work, Zakaria!
Star of the week in Daisy Class is Ismail! Ismail works very hard during his independent play. He completes all of the classroom activities to earn a Rainbow Dojo each day. Keep up the great work, Ismail!
Star of the week in Sunflower Class is Milad! Milad has been consistently challenging himself when completing his number grid each day. He has been working on writing in steps of ten and is now writing well beyond 100 which is exceptional. Keep up the great work, Milad!
Star of the Week in Poppy Class is Ilias! He always uses full sentences and clear explanations when explaining how he calculated an answer to a maths problem.  Keep it up, Ilias!
Star of the Week in Carnation Class is Daisy-Mae! Daisy-Mae has been working hard in class and has been very helpful to others. Well done, Daisy-Mae, Keep it up!