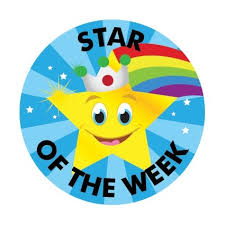 Star of the Week in Bluebell Class is Ayaan! Ayaan was extremely well behaved on our school trip to the Discover Centre in Stratford this week. Ayaan listened carefully to instructions, communicated with confidence and used his kind hands when playing with his peers. Good job, Ayaan!
Star of the Week in Daisy class is Henry! Henry was very enthusiastic on our school trip to the Discover Story Centre. He volunteered to take part in the story making session and showed excellent behaviour whilst we were away from school. Well done, Henry!
Star of the Week in Sunflower Class is Lucyna! Lucyna has started the term off on the right foot and has been working extremely hard to complete her work independently in Guided Reading and in Maths. Well done, Lucyna, keep up the good work!
Star of the Week in Poppy Class is Adon! He is always setting a good example for Poppy Class by doing the right thing and going above and beyond in his work. He is often a model example of good behaviour and hard work for other children to follow. Keep it up, Adon!
Star of the Week in Carnation Class is Leah. Leah is leaving Concordia today and we will all miss her greatly. She has achieved much in her time with us, and we wish her well for the future! Keep in touch, Leah!