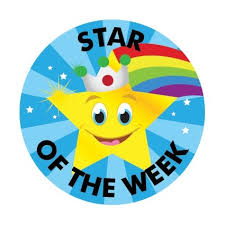 Star of the Week in Bluebell Class is Grace! Grace has excelled in her maths focus work this week, managing to name and recognise 3D shapes. As well as this, Grace has been working hard in phonics to 'hold a sentence' in her head and write it using her Fred Fingers. Keep up the fabulous work, Grace!
Star of the week in Daisy Class is Sophia! Sophia always tries her best at activities and works very hard to achieve her Rainbow Dojo every day. She is a great role model to her peers. Well done, Sophia!
Star of the week in Sunflower Class is Olivia! Olivia has written lots of fabulous stories this year but has been working especially hard to use fabulous wow words when retelling the story of Jack and the Beanstalk. Her choice of words makes her writing very interesting to read. Keep up the great work, Olivia!
Star of the Week in Poppy Class is Adah! This week Adah, used lots of great vocabulary in her comprehension writing. Adah impressed the class with her exceptional use of wow words to make her diary entry a great read! Keep it up, Adah!
Star of the Week in Carnation Class is Mason. When Year 3 went on their trip to the Houses of Parliament, Mason not only showed excellent behaviour but brilliant focus. He
listened carefully and he asked and answered interesting questions throughout the day. Well done for setting a good example on trips, Mason!