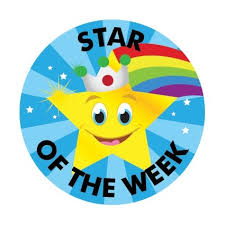 🌟 STAR OF THE WEEK 🌟
Christopher is star of the week in Bluebell class. Christopher has been trying very hard during maths this week and can now count in twos to 20! Super job, Christopher!
Star of the week in Sunflower Class was Ilias. Every morning Sunflower Class work on calculations, whereby they are given a number and have to find different addition or subtraction sentences that equal that number. This week our number was 26 and Ilias found that 150 – 124 = 26, a fantastic calculation! Ilias has also been making excellent choices for his learning and making sure he is always doing Star Sitting. Great work, Ilias!
Star of the Week in Poppy Class is Adam. In Guided Reading this week, Adam did a great job of comparing the book that we were reading as a group to a number of other books that he has read at home. Some of the links that he made were very impressive. Well done, Adam!