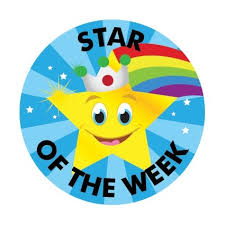 Star of the Week in Bluebell Class is Atilla! Atilla is a kind and caring pupil who always uses his lovely manners both inside and outside of the classroom. As well as this, Atilla has been working extremely hard in phonics to use his 'Fred Fingers' to write green words. Splendid job, Atilla!
Star of the Week in Daisy class is Felicia! Felicia has been working very hard in Maths this week. We have been using the iPads in Maths to practise our counting and number recognition. Felicia used the iPad independently and was able to show the class how to complete the activities. Great work, Felicia!
Star of the Week in Sunflower Class is Viaan! We have been learning about 3D shapes and learning to spot these in different places. Viaan did a super job of identifying and naming a variety of 3D shapes in class. He also always shows excellent behaviour at all times. Well done, Viaan!
Star of the Week in Poppy Class is Chimamanda! Chimamanda always sets a good example for Poppy class during the Christmas performance rehearsals. She sings all the words clearly, stood still and smiled whilst performing. Great job, Chimamanda!
Star of the Week in Carnation Class is Ayush! Ayush has been consistently working hard in his maths lessons. Ayush has shown great enthusiasm in class and continues to make me proud with his speedy times tables. Well done and keep it up, Ayush!