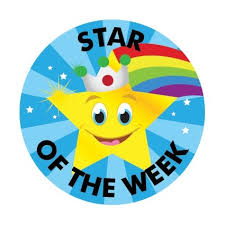 Unfortunately, due to the Reception, Year 1 and Year 2 bubbles being sent home yesterday, we were unable to present the Star Of The Week winners with their certificates.
Star of the Week in Bluebell Class is Dexter! Dexter has really impressed us with his enthusiasm and knowledge about our new topic, 'Space'. Dexter is able to name all of the planets in the solar system in the correct order. He has also created some wonderful space themed drawings – he has a real artistic flare. Well done, Dexter!
Zayan was awarded Star of the Week in Daisy Class for being a super role model and trying particularly hard in his phonics lessons this week. Well done, Zayan, keep it up!
Star of the Week in Buttercup Class is Crina-Cristina! Crina-Cristina has been very creative in class and made some lovely patterns. Ms Mills and the other teachers are very proud of Crina-Cristina, well done!
Star of the Week in Sunflower Class is Sophia F. Sophia has been working extremely hard on practising her Set 2 sounds with Miss Fallows. She has also shown excellent independence when using strategies to solve subtraction problems this week. Well done, Sophia F!
The Star of the Week in Daffodil Class is Caitlin! Caitlin has been showing great engagement in class discussions and has been working hard in challenging herself to do better. Great job, Caitlin!
Our Star of the Week this week is Ziva. She has set a good example for Poppy Class by doing the right thing. She has also wowed us in her RWI Comprehension lessons, where she used lots of adjectives and similes to describe her saying goodbye to her bedroom. Fantastic work, Ziva!
In Carnation Class, our Star of the Week is Chimamanda! Congratulations to Chimamanda for excellent use of descriptive language in literacy. Keep up the hard work!
Star of the Week in Orchid Class is Poppy! Poppy has consistently been an outstanding role model to year 4 and is also working hard to improve her confidence when reading aloud to adults! Well done, Poppy! Keep up the hard work and great use of expression!