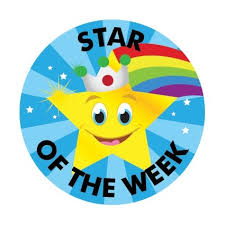 Star of The Week in Bluebell Class is Maame! Maame always comes into school with a bright smile on her face and loves to learn. She has produced some fabulous writing and is beginning to hear and say the initial sound in words. Excellent work, Maame!
Star of The Week in Daisy Class goes to Bear! Bear has great knowledge of the world around him and was able to explain the food chain in great detail. We are all extremely proud of you, Bear!
Star of The Week in Buttercup Class is Suvas. Suvas is a new addition to Buttercup Class and he has settled in well. In addition to this, Suvas has been working hard with his writing this week. Keep up the fantastic work!
Star of The Week in Bluebell Class is Nicole! Nicole has been an excellent role model for the rest of the class. She has taken on the role of register monitor and fulfils this role quickly and sensibly. She has also been making such a super effort to contribute to class discussions and she consistently completes her independent work during Maths to an excellent standard. Well done, Nicole, keep up the good work!
Star of The Week in Daffodil Class is Evie! Evie has been making fantastic choices in class and is setting a good example for her friends whilst making the right choices. Well done, Evie, keep it up!
Star of The Week in Poppy Class is Taline! Taline is our Star for settling in so well! She shows great Concordia spirit and has showed enthusiasm across all subjects. Keep it up, Taline!
Star of The Week in Carnation Class is Vilte! Vilte always shows she is ready to learn and asked thoughtful questions during our RE lesson this week. Keep it up!
Star of The Week in Orchid Class is Charlotte! Charlotte has achieved Star of The Week for showing a range of methods to solve addition and subtract calculations. She has worked hard to apply new concepts and present this neatly in her book! Excellent work, Charlotte!