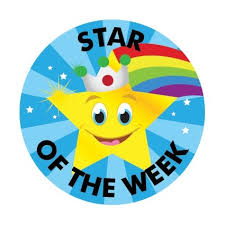 Star of the Week in Bluebell Class is Evangelia-Maria! Eva has been making a real effort to project her voice and say her lines clearly during our Nativity rehearsals. As well as being a great performer, Eva is a polite and caring member of Bluebell Class. Well done, Eva!
Star of the Week in Daisy class is Kayden! Kayden has been working very hard in his RWI lessons. He uses his 'Fred Fingers' to spell out words and to write some lovely sentences. Keep up the great work, Kayden!
Star of the Week in Sunflower Class is Arin! Arin has been very kind, compassionate and caring to people in Sunflower Class. Whenever someone is upset or needs help Arin has been a great support and a true friend. Well done, Arin!
Star of the Week in Poppy Class is Daniel! He has been working really hard in maths this week, showing tremendous perseverance. He has even gone above and beyond by completing challenge questions! Keep up the brilliant work, Daniel!
Star of the Week in Carnation Class is Richie! Richie has been participating really well in Literacy lessons and coming up with fantastic ideas of his own. Richie has also been making sure he is bringing in his homework every week. Well done, Richie, Keep it up!