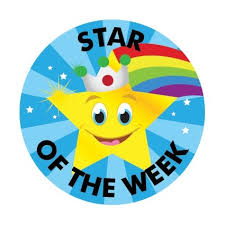 Star of the Week in Bluebell Class is Amaan! Amaan used Numicon shapes to create and identify different teen numbers during our maths activity. Not only was Amaan able to recognise teen numbers independently, he also produced some fantastic creative work in class. Amaan used different materials to make a beautiful fruit collage. Great job, Amaan!
Star of the Week in Daisy Class is Komal! Komal has been working really hard to apply her knowledge of phonics to her writing. During our 'healthy eating' literacy task this week, Komal used her 'Fred Fingers' to label some different fruits and vegetables. Fantastic effort, Komal!
Star of the Week in Sunflower Class is Haroon! Haroon has come back to school ready to learn and has made an excellent start, especially in his new phonics group. He has been using 'Special Friends' and 'Fred Talk' when he needs to but he is reading fluently and starting to add some great expression. Top work, Haroon!
Star of the Week in Poppy Class is Carlito! Carlito has been working really hard in maths this week and even completed an extra worksheet in Geometry! Brilliant work, Carlito. Keep it up!
Star of the Week in Carnation Class is Antonia! Antonia is always making good choices and setting a fantastic example to the rest of the class. Antonia has also been participating and doing her best in all of her lessons this week. Well done, Antonia, keep it up!