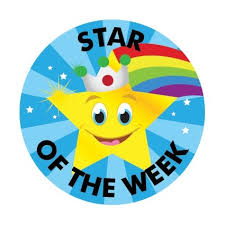 Star Of The Week in Daisy Class is Annabelle! Annabelle is always focussed and on task during our lessons, and is full of bright ideas she is happy to share with the class. Annabelle is also a good friend, and will always help her peers complete activities around the classroom. Well done, Annabelle!
Star Of The Week in Bluebell Class is Matei! Matei has made a real effort to use his Fred Fingers to spell simple green words independently in phonics. As well as impressing his teachers with his hard work, Matei continues to be a kind friend to his peers and polite member of Bluebell class. Well deserved, Matei!
Star Of The Week in Buttercup Class is Samir! Samir has made a fantastic start and has settled well into his new routine.  Ms Mills and Ms Courtney are very proud of Samir, well done!
Star Of The Week in Sunflower Class is Grace! Grace has had a super week, she has been consistently making fantastic choices and working hard to complete all activities. Well done, Grace!
Star Of The Week in Daffodil Class is Felicia! Well done Felicia for supporting others in their maths and always trying her best. Keep it up!
Star Of The Week in Poppy Class is Haroon! Haroon  has won  for always being enthusiastic in school and sharing lots of his ideas in maths. He has worked well with his partner and always has a positive attitude. Great work Haroon!
Star Of The Week in Carnation Class is Ty! Ty has shown excellent effort this week in Literacy and Language lesson, working independently and using language from previous lessons to improve his work. Keep it up!
Star Of The Week in Orchid Class is Daniele! For showing dedication and making outstanding progress with her reading. I am so proud of how far you have come and the confidence that you now show when reading Daniele. Amazing work!